Hi there.
I'm guessing you must be new here and wondering what on earth is going on.  Well, sit down, get comfy, and i'll explain.
You, my friend, have stumbled upon a place of magic and wonder...well not really.  It's actually just a place for me and my friends to be ourselves.  You see everyone you find here has an inner child.  That inner child's age can be anything really.
So yeah this is, for want of a better word, an Ageplay site.
My name is Sammy, or Sam, sometimes even Samantha, depending on what I've done.  I am currently a 29 year old woman with an inner child of 18 months.  That puts me quite happily into the Adult Baby category.  This is me.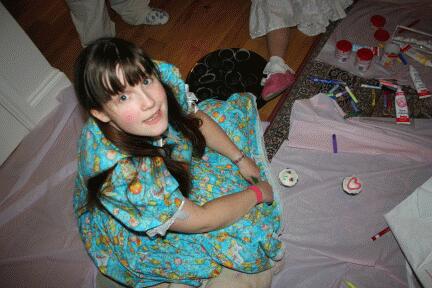 Not too scary right?  Well I have a daddy, not my biological father, but actually my husband who doubles up as my inner childs daddy,
It's not a sexual thing for us.  This site is in no way sexual, if you're looking for that sort of thing there are a multitude of sites out there to fullfill your needs.  This site is really about nurturing your inner child.  We have a forum section where likeminded adult kids can talk about stuff, we have a chatroom that every Tuesday night at 8pm UK time.  We organise playdates and go on day trips and just generally try and ignore the big bad world and retreat into happy carefree days.  That doesn't always work like that so this ste is also where you will find my blog, where i'm whining about my full time job and general other things, occasionally mentioning the fact that I wear nappies and suchlike.  (Yes I wear them, yes I use them, now that we have that out of the way shall we continue?)
Hmmm...I think this is sounding a bit standoffish rather than tongue in cheek, tis not my intenton honest.  I'd just want to let people know what this site is about really so that they can get the most out of it.